Features & Advantage
01
Designed to keep a proper level of electrolyte in the upper part of plates via accommodating an acid volume by 10mm or so higher than competitors' to sustain an acid volume in case of water consumption caused by an evaporation at a high temperature.

02
Application of cold-forged bushing & leakage-proof
- The grids produced by high pressure casting system have an excellent advantage in cycle life of traction cell due to its anti-corrosion characteristic.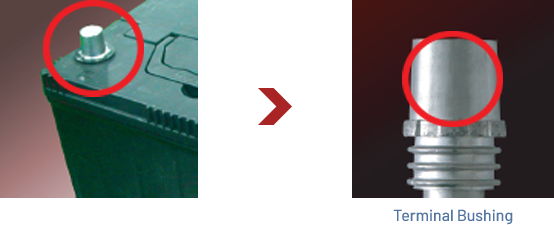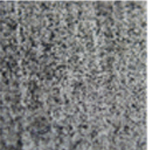 Minute tissue (Increase of strength)
Prevention of whitening & discoloration via oil applying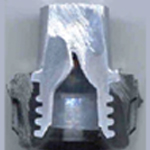 Constraint to a leakage around terminal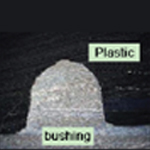 03
An increase of life span via adoption of spun-bonded paper Spun-bonded paper
An increase of lite span via adoption of spun-bonded paper
An increase of life span via maintenance of active materials of positive plates

04
An increment of anti-corrosion & life span via an adoption of grid in high Sn(tin)
- Ranking in life span under overcharging of high temperature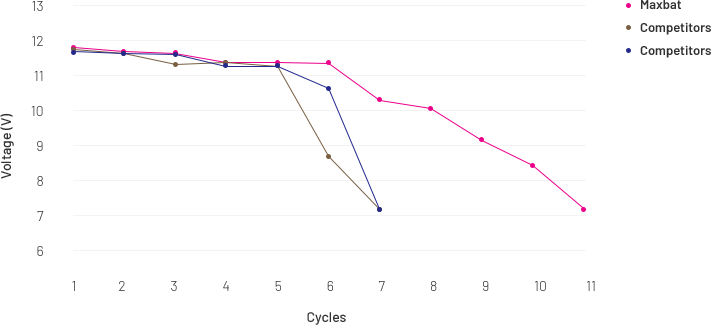 Ranking in an anti-corrosion under the condition of specific gravity 1.280 at 25 degrees celcius of an ambient temperature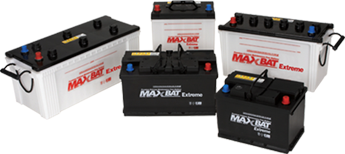 1

High Sn

2

Low Sn

3

Cast
Structure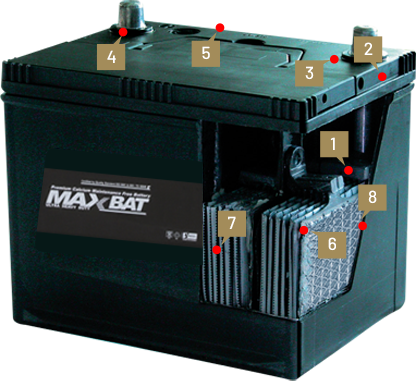 1

Centered Cast-on Plate Straps

Stronger than the thinner gas-burned conventional connectors.
Reduce the lever action movement resulting from road shock
2

Exclusive Patented Liquid Gas Separator

Prevent electrolyte losses by collection and returning liquid to the reservoir.
Vents allow the battery to "breathe" during temperature changes and charging.
3

Flame Arrester

Safety system
Prevent the explosion from spark of outside
Minimize the acid—leakage
Prevent the inflow of dust
4

Heat-Sealed Covers

Prevent contamination and also add to the strengh and rigidity.
Include permanent flame arresters to prevent accidental explosion from external sparks or flame.
Have hydrometer built in for faster checking.
5

Hydrometer

At full charge, the electrolyte specific gravity is 1.28 while at 50% of charge considered the minimum serviceable condition, the specific gravity is typically 1.22, In a typical situation when the specific gravity drops to 1.1 0, the battery is fully discharged.
6

Low-Resistance Envelope Separators

Encapsulate negative plates
Improve vibration durability
Prevent "treeing" and internal shorting between pos.and neg. plates
7

Polypropylene Case

Reinforced design is precisely tailored to support the battery elements.
Material is exceptionally strong, durable and withstands road shock and vibration.
8

Wrought Lead-Calcium Grids

Offer considerable strength
Resistant to grid corrosion
Over-charge resistant
Minimal gassing and water usage
Less self—discharge
Resist thermal runaway
Structure
Sealed Maintenance Free Battery (JIS)
A. Passenger Car & Light Commercial Battery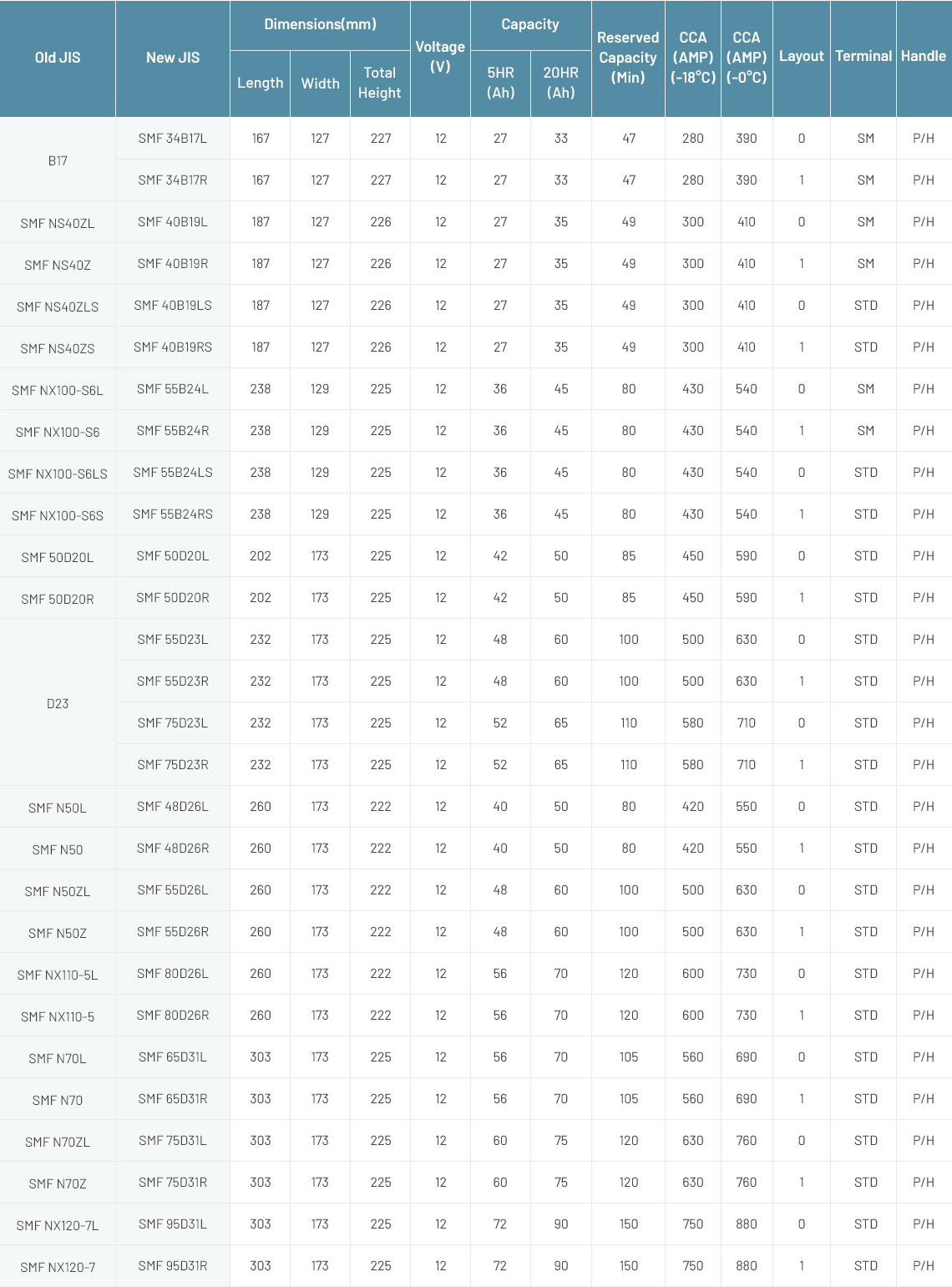 * B3 BHD IS AVAILABLE BY CUSTOMER'S REQUEST
B. Heavy-Duty Commercial Battery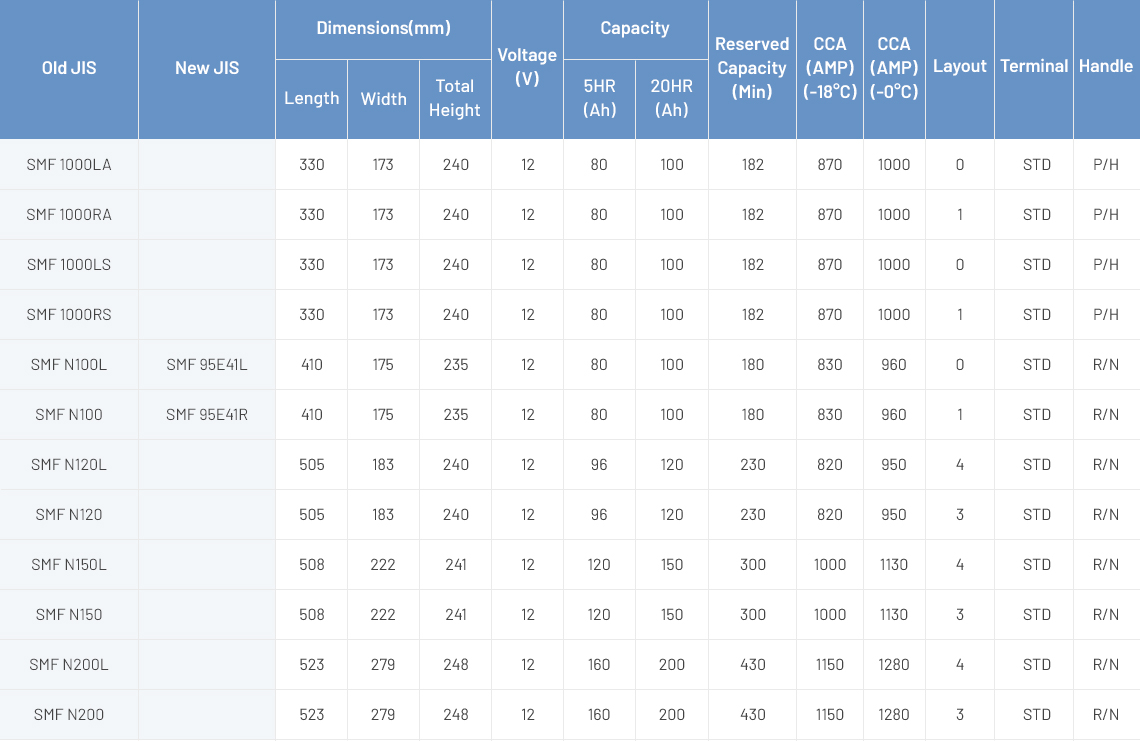 Sealed Maintenance Free Battery (DIN)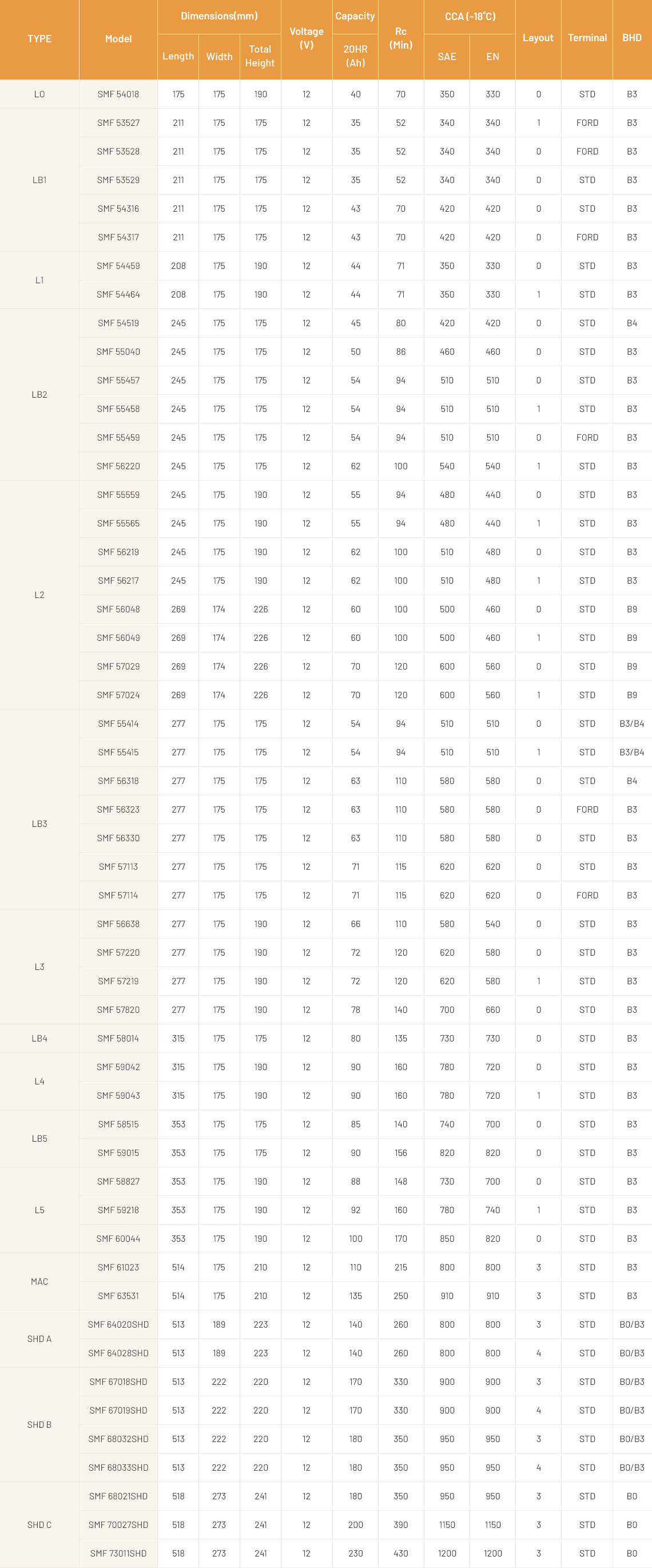 Sealed Maintenance Free Battery (BIC)
A. Passenger Car & Light Commercial 12 Volts (6 Cells)

* BCI Figure "K" : 2 Bottom Hold-Downs 13.5mm high on short sides
B. Heavy-Duty Commercial Battery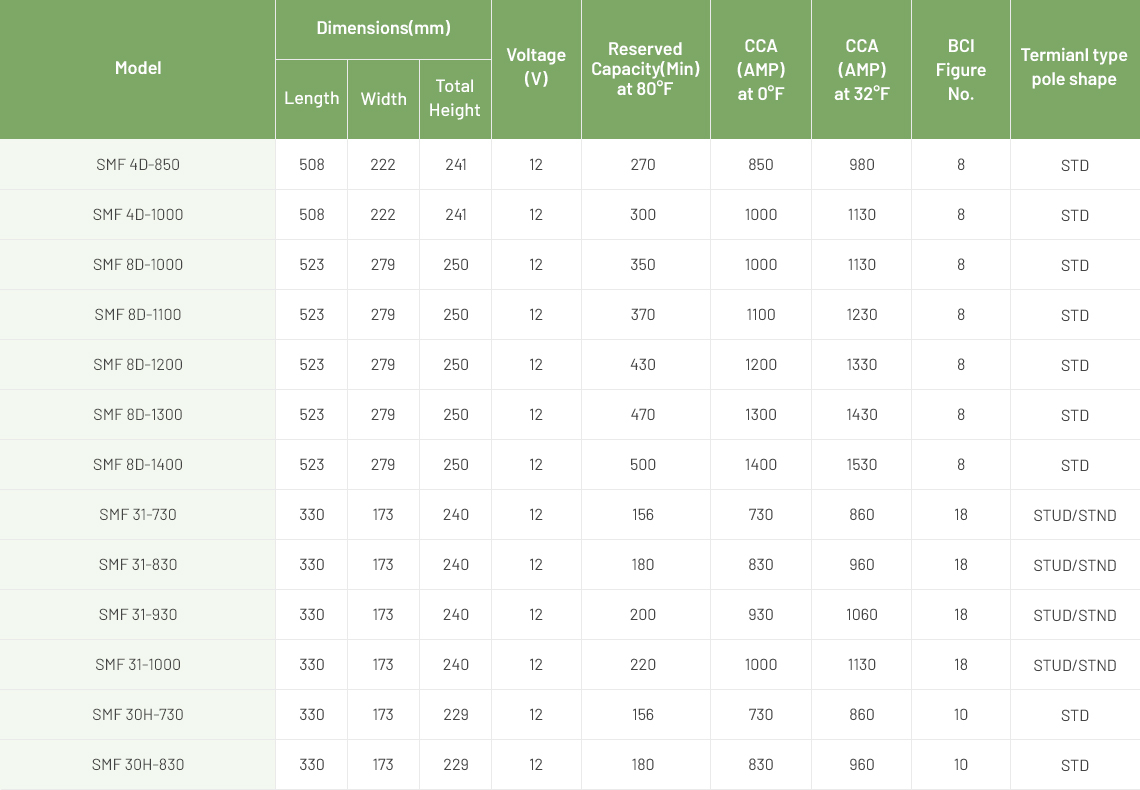 TERMINAL SHAPE
Embedded Terminal(ET)

Dual fit Terminal(DT)

L Terminal(LT)

Automotive Post(AP)
C. General Utility 12 Volts (6 Cells)
D. Marine Battery

* side by side = STD + WING
BCI FIGURE

TERMINAL