Technical Features

01
Global's PzS & PzB series are compliant to DIN EN 60254-2.
02
Positive Grid
The grids produced by high pressure casting system have an excellent advantage in cycle life of traction cell due to its anti-corrosion characteristic.
03
Cap
Tubular type plates firmly hold active materials in right place and solve the problem of shedding once and for all, and ensure you of high capacity, strong power and minimum defect.
04
Separator
Microporous polyethylene separators assure ionic circulation and low internal resistance.
05
Plates
Rubber bushing around terminal protects cover breakage and keeps plates safe from the external shocks and vibration.
06
Heat-Sealed Case and Cover
The cases and covers are made of polypropylene, which are high impactresistant and heat-sealed for perfect leak-proof assembly.
07
Push in Flip Plug
Flip plug with electrolyte indication.
08
Cell connection for bolt-on type
Bolt-on type terminals allow cells to be replaced or moved without excessive work.
09
P.E Tube
P.E Tube is more environmental friendly compared to Glass Tube, contributed by no use of phenol resin.
10
Wet-Filler
By equalizing the weight of positive plate, wet-filling has an advantage in reducing capacity variation among each cells.
Applications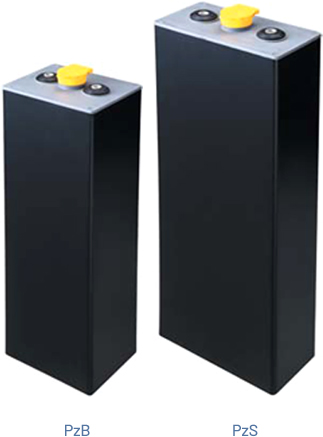 01
Low duty
Single shift with lower than depth of discharge 60% 5HRC(C5)
Electrolyte about 30℃
02
Normal duty
Single shift with depth of discharge 80% 5HRC(C5)
Electrolyte about 30℃
03
Heavy duty
Single shift with depth of discharge 80% 5HRC(C5) and high discharge currents
Multi-shift using with or without battery change.
High ambient temperature.

Specification
A. PZS cells Technical data and performance
with bolt-on connectors, dimensions according to DIN/EN 60254-2 and IEC 60254-2 Series L standards

B. PZB cells Technical data and performance
with bolt-on connectors, dimensions according to DIN/EN 60254-2 and IEC 60254-2 Series E standards
*Filled and charged cell weights ±5%
*Overlid height = maximum cell height - 30mm
*All specifications are chargeable with or without notice